5th Water Hot Springs, UT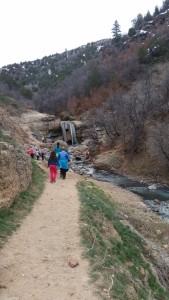 While I was in Utah for Easter Jeep Safari, I figured I might as well cross a few other items off my "Utah-Must Do" list. One of these destinations is a beautiful 15 pool hot spring that I've been gawking about on my Pintrest page for over a year now. Okay, so 5th Water Hot Springs is just about an hour from 191, but it's way too amazing not to blog about. To get there, I traveled south on I-15 from Salt Lake City and then got off on Hwy 6 in Spanish Fork. There was a sign for Diamond Fork that led 10 miles back on a windy road to where we parked to begin the 2.5 mile hike up the hot springs. Let me say, it was worth all of the 2.5 mile hike; I would do it again even if it was 10 miles! During the entire trek up, the gorgeous flowing river is on your right subtly changing colors from a deep blue, to an almost tropical green, and then to a glacier like icy blue. The water at that point is anything but icy though. By the time is reaches that light blue shade, you can smell the sulfur and see the steam rising from the stream. As if this view wasn't spectacular enough, to "top" it all off, a breathtaking waterfall! The waterfall towers 20-ish feet high and is an invigorating place to cool off when you get too hot in the spring pools. All of the soak stations vary in temperature, ironically the hottest being right under the chilly waterfall . So if being blasted with cold water isn't what you had in mind to cool off, simply move downstream. This sight seriously is one of the most beautiful and most relaxing I've experienced in Utah. Definitely something to add to your "must-do" list if it;s not on there already .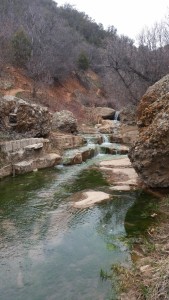 On a last note, of course nothing this beautiful is a secret, so do not be discouraged when the parking lot is full. There is a constant cycle of people in and out of the pools. You will get a turn and even if you have to wait a few minutes, it is beyond worth the wait.
Trackback from your site.