Adventure Bound River Expeditions
A few posts back, I talked about our great camping spot in Moab. What I didn't mention was the awesome chance meeting we had with our neighbor. This gentleman and his wife were camping at Gold Bar campground for a reason; Adventure Bound River Expeditions. They live in Grand Junction, CO. Which is less than a 2 hour drive from Moab. They were familiar with this particular area because the gentleman had spent the last several years dropping off rafters right down the road. He couldn't have come over and introduced himself at a better time because we had just been wondering out loud to one another where all the rafters that had been passing by were headed? I said " I wonder if those rafts travel all the way to the confluence?" The answer: They sure do!
Adventure Bound takes people all over the Green and the Colorado rivers! You get to pick how long of a trip you want, where you want to start and end, and they literally do the rest! Some of the starting points and destinations include Flaming Gorge, Steamboat Springs, Capitol Reef National Park, Canyonlands National Park, Colorado National Monument, and  lake Powell! Talk about a dream come true. The day I got home, I booked a trip for this time next year. Its going to be torture waiting that long, but sometimes the anticipation is half the fun!
Be sure to check these guys out! www.adventureboundusa.com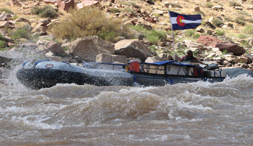 With over 50 years of exceptional professionally-guided river rafting trips in Colorado and Utah, Adventure Bound has the experience to offer the best rafting vacations in the west. Since our start in 1963, Adventure Bound has specialized in multi-day rafting trips in the beautiful remote wilderness areas of America. Our all-inclusive trips will give you something you won't find in other vacations; The total escape from the hectic world, completely free of distractions.
Trackback from your site.