Backpacking the Grand Tetons
The Teton Crest Trail runs through the alpine zone west of the summits, with amazing views of the soaring peaks that make up the Teton Range! 
Teewinot: 12,325-foot
 Middle Teton: 12,804-foot
Mt. Owen: 12,928-foot
Grand Teton: , and 13,700-foot 
You don't really get a grasp for the glory of the peaks while just driving US191 through the Grand Teton National Park (although the drive IS amazing). So if you are looking for something more challenging and a way to really disconnect from the general flow of traffic, try this one on for size
The trail totals in 32.6 miles (via Cascade Canyon Trail) and is definitely not for the faint of heart. To find the trailhead from Jackson, go north 12 miles; turn left on Teton Park Rd. In 8.5 miles, turn left on Jenny Lake Rd. In 2.5 miles, turn left on String Lake Rd. Park in .3 mile.
As always with backpacking, plan ahead! Bring plenty of food and water and be sure to have your permits which you can get at:  www.nps.gov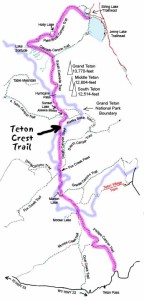 Trackback from your site.