One activity that definitely got added to my bucket list while in Moab was the zip-line that went in not too long ago! I have heard nothing but great things about Ravens Rim Zip-line Adventure. The crew and I had this on our list for this trip, but simply ran out of time. I'd love some feedback from anyone who has coasted on this wild ride. We saw them sail overhead while on the bike path and the sounds coming from all of the thrilled customers sounded like sheer joy and exhilaration! Below is a description form their website of what the tour offers and a map. To book with them, visit : www.ravensrim.com
The course begins with Sneak Peak; a short 280-ft zip line with views dominated by to the La Sal Mountain Range of southeastern Utah, rising 12,721 ft above sea level.
 Cross over a natural bridge, home to a newly forming arch and onto B-Line, a 360-ft line which spans two red rock fins.
 Ready for more?!?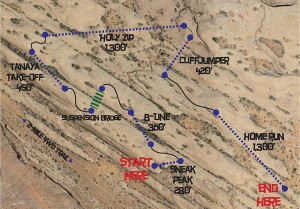 The 110-ft long suspension bridge is our own engineering marvel!  Steadily walk the narrow planks as you peer through perforated treads below your feet.  Back to terra firma!  The foot path weaves through some of nature's finest wonders; potholes! Some measuring more than 50-ft deep, they are a geological marvel! Also known as Tenaya's, these are naturally occurring depressions in the sandstone that are home to organisms that have survived millions of years.
 Leaving pothole ridge,Tenaya Take-Off lands on another sandstone ridge, 450-ft from your departure.
 And now for Holy Zip, 1280-ft long, high above the desert basin.
 Ready for some wind beneath the wings? Fly across Cliff Jumper. Just 420-ft but with plenty of speed.
 And now the grand finale.  Home Run will fly you over 1,300-ft of desert terrain. Wave to the bikers below as you cruise over the world-renowned Slickrock Bike Trail.
Trackback from your site.