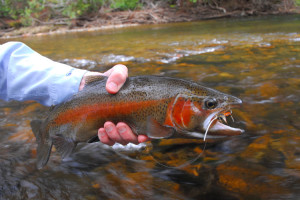 While I was walking my puppy along Madison River the other day, I stumbled upon a local Bozeman Montana fisherman by the name of  Dylan. I asked him what was biting this time of year, and he told me that he was fishing for rainbow trout being that its towards the end of spawning awning season, but that there are browns out right now as well .
A simple question that lead to a lengthy conversation about the many pleasures of the river.
Where I met Dylan was at the back end of the Beartrap Canyon at the beginning of the lower Madison. He had chosen that spot because not only was it one of his favorites due to the beautiful rock formations that surround it, but also because he had just read in his Orvis fly fishing app that the fishing was hot there right now. Dylan presumed this was because of all of the pocket water. The pockets are created by larger rocks that the fish can hide behind in a slower current to watch their food float by in the faster current ripe for the taking. Hunters themselves, I guess we are all searching for something.
Dylan was using fly rod with a Nymph set up and all hand made flies.  Clearly very knowledgeable and a master of his craft, he showed me all of the patters that work best for sub-surface fishing.  Among this list was a San Juan worm (which is what he was using) , serendipity, yarn egg, pheasant tail, and prince nymph. The list goes on, but this is what he found seemed to be working best with the trout for him. He also explained that streamer fishing is another effective technique when fishing for trout.
This time of year there is also midge hatching which may lead you to seeing some people doing dry fly fishing.  Whatever kind of fishing you are indulging in, just be sure to make sure you so within regulations of FWP. (Fish, Wildlife, and Parks) These regulations mot only stipulate where you may fish and what you may fish for, but also what you may use to fish with, whether or not an area is catch and release only, and some of these regulations vary by season. Be sure to pick up FWP guide at any fly shop or sporting goods store before you head out on the river. Equally as important, a fishing license is a must! The cost for a non-resident is 15$ for 2 days, and  an  additional  10$ for conservation. For a Montana resident , it is only 18$ for the whole season! There is hell to pay if you get caught without one, but why would anyone not want to support something where there money goes back in to the very thing that they enjoy?
This principal among many others that Dylan and I discussed along the Madison that day was one that left me thankful for fisherman like him. When I asked Dylan what was special about fishing for him, he responded " This time of year is all about solitude. No one is guiding yet, so you only see locals and the fish are biting because it's right before spring runoff. It's peaceful and productive"